When Lauren asked if I'd be willing to blog in honour of Willow's release I was completely jazzed. I jumped in with two feet (despite not having read the book) and then thought to ask, what do you want me to write about? She kindly suggested two ideas: cutting and Shakespeare. Is it weird that writing about both filled me with an overwhelming sense of dread?
So I went with Shakespeare...
Shakespeare....The Bard...Will...Shakey-Baby...Whatever you like to call him, he's a part of our education. We cannot escape him. He's the universal truth within the school structure of every English country. We all recognise the line 'Parting is such sweet sorrow' at an early age, not realising the importance or reverence that line possesses. However my favourite, over-used quote is 'The lady doth protest too much' – a line that perfectly summarises my mother. Kidding...kinda.
The truth is, despite reading Romeo and Juliet and Macbeth in high school, I learnt everything I know about Shakespeare from the celluloid. That's right, I learnt about Shakespeare from film. Cringe in horror at my complete lack of sophistication but I did learn.
Here are the lessons I learned from Shakespeare in film –
Ten Things I Hate About You (Taming of the Shrew)
This movie taught me to embrace my inner shrew. She's been an outie ever since. Shakespeare liked his women a little cold and with a sharp tongue, I think he would have liked me!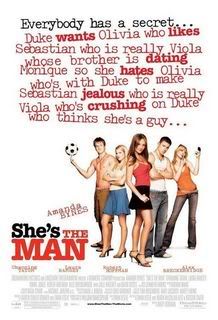 She's the Man (Twelfth Night)
While most of you would remember this movie for Channing Tatum's abs (and really who wouldn't), I learned a very important lesson here. No female, whether Amanda Bynes or Gwyneth Paltrow, can pull off the transgender look with any success. Pretty isn't pretty when it involves a bound chest, crotch stuffing or an affected voice. But if the reward is Channing or Joseph Fiennes, I might overlook their plan's obvious flaws and give it a go.
O (Othello)
Julia Stiles – yay I love thee. Yeah, this one really didn't work for me so I am going to move on...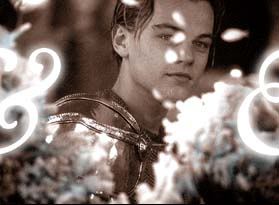 Romeo & Juliet

Before this Baz Luhrman visual explosion came onto the scene, everyone thought Titanic and Growing Pains was all Leo was capable of and that Butthole Surfers and Shakespeare would never be uttered in the same breath. This movie saved many high school students from sitting through the 1968 version where Olivia Hussey's boobs were edited out for the good of the children. I know many boys that argue this censure was in no way intended to protect their interests. At last we got a pretty (if a little gawky) Romeo and a Juliet that we all wanted to adopt. Shakespeare also gave us one of the best movie soundtracks ever!
You might scoff; I don't really have all that much in common with Willow and Guy's Shakespeare loving. To be honest, I relate to Cher from Clueless (inspired by another literary great) when she corrected the heinous Heather's incorrect Hamlet quote:
"Well, I remember Mel Gibson accurately, and he didn't say that. That Polonius guy did."
If movie inspired Shakespeare learning works for her (and will get me Paul Rudd) then it can't be all bad for me. Can it?
~~~~~
Thank you so much Adele for writing this guest blog and celebrating Willow with us!
http://www.persnicketysnark.blogspot.com/